AFTER 40 YEARS……. PERFORMANCE STILL MATTERS!
Formed in 1974, CGS Tool began as a modest "boutique" manufacturer of high quality, High Performance carbide end mills, in Cleveland, Ohio and moved to Brunswick in 2009. In 2013, we moved into a newer & larger facility, located in Medina, to meet our growing needs of continuing to be "customer centered". Today the company's multi-faceted lines of carbide end mills, emphasizing High Performance operate throughout the Americas and around the globe on CNC lathes, mills, and Swiss screw machines. CGS Tool's innovations, as well as design and engineering support, have helped thousands of precision metalworking customers in the aerospace, medical, automotive, and various other industries……..Worldwide!
All of CGS Tool's carbide end mills are designed and manufactured in the US, and are backed by an absolute commitment to customer service and satisfaction. CGS Tool's complete line of High Performance carbide end mills, are designed to reduce cycle times and add value to any precision machining operation……GUARANTEED!
CGS Tool High Performance end mills include: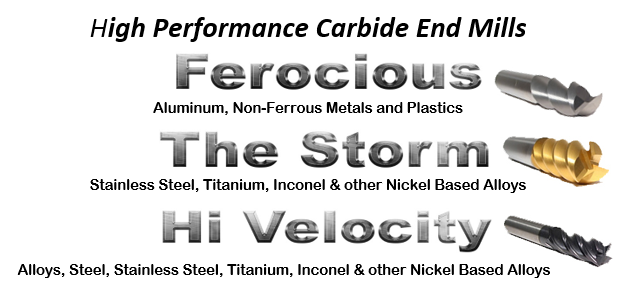 Advantages and efficiencies of CGS Tool High Performance End Mills:
*Faster Speeds and Feeds * Less Tool Changes*
*Increased Productivity * Better Surface Finish*
We have a lot of control over quality. Other than coating, we do everything in-house, under one roof, keeping standard shapes and sizes in stock so they can ship out the same day. Custom end mills require a short turnaround. Usually with custom orders, the customer will submit a drawing or a print. We'll take a look to make sure that the end mill requested is going to be the end mill that they will get maximum production and value from. Then we quote it, receive the "go ahead", enter it into our production cycle and then ship to you.
CGS Tool is also known for our customer service. As soon as customers have the tool in their hands, they can call us anytime and we can walk them through any application .We want people to spread the word. The more productive/profitable we can make our customers, e.g. lower cost, better tool life, addition of money to the bottom line, the more likely they'll be to tell others in the industry that this is a great investment to make.

Visit our website for more information: http://www.CGSTOOL.COM